Sockets for airbag igniters, seatbelt pretensioners and pedestrian protection systems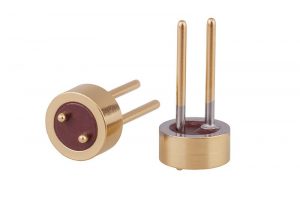 Electrovac Hermetic Packages is a reliable, internationally operating supplier for igniter sockets for the global automotive industry.
Airbag ignitors and seatbelt pretensioner systems are nowadays among the most important passive road safety products. Additionally, our hermetic housings are also used for the production of actuators for pedestrian protection systems, active head restraints and front cover locks as well as adaptive steering-columns..
Functional description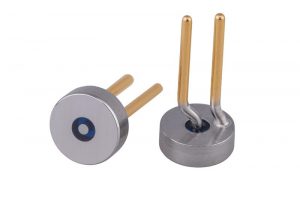 In the event of a collision the crash sensors transmit an electrical impulse to the igniter, which starts the gas generators. The gas generators immediately deliver a large volume of gas into the airbags and simultaneously the retractor mechanisms activate the seatbelt pretensioners.
Electrovac's hermetic igniter sockets protect the required initiator charge from air humidity changes or other harsh environmental conditions. The contact pins of the sockets are selective gold plated in order to ensure a very good electrical contact.
Specifications:
hermetically sealed 1E-8 mbar l/s
glass ejection force up to 5000 N
tensile force of the conductors up to 350 N
temperature resistance from -65°C up to +230°C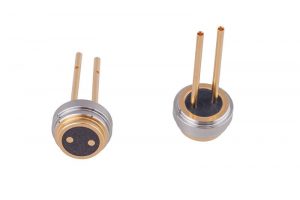 Electrovac Hermetic Packages is one of the world's leading suppliers for the price-sensitive automotive industry. Highly automated production lines and special testing facilities underscore Electrovac's zero error strategy and guarantee, at the same time, a yearly production volume of several hundred million quality glass-to-metal seals.
Our products ensure that the initiator charge will remain encapsulated and dry over a long lifetime..
Igniter's packages for industrial applications
Besides the automotive sector, igniter's packages are also used for industrial products.
Special materials and specially developed manufacturing processes are used for this niche market to protect the ignition wires and detonating agent from humidity, temperature fluctuations and high pressure.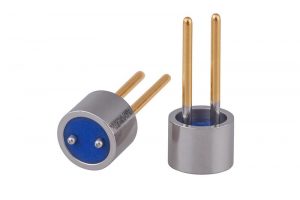 Product characteristics
> lapped glass-metal surface to achieve extremely accurate flatness and surface roughness requirements
> pressure resistant up to 3000 bar
> temperature resistant up to 230°C
> selective plating (gold-plating)
Our hermetically sealed glass feedthroughs are used in following applications:
> ejection seats
> fireworks ignition mechanisms
> emergency parachute ignition devices
> cable cutting devices